Sometimes we get stuck at home for whatever the reason, and we're looking for stuff to watch on the old boob tube or on our smart devices from our local satellite or cable providers, streaming on the internet, etc. etc. and so forth. While most of us already have our favorite 4×4 films, major movies, and TV shows featuring Jeeps, ATV's and other off-road vehicles, here are some you may have missed or those worthy of watching or re-watching.
Obvious Jurassic Park Presence
For many, this is one of the first flicks that come to mind that features a slew of 1993 Jeep Wrangler Sahara YJ's and other rigs painted with the park's logo. Since almost everyone has seen Jurassic Park or at the very least a trailer for the original movie, it's probably not a big deal for a minor SPOILER ALERT inserted here.
Near the beginning of the first feature film in the series, the Jeeps are used to travel over lame grassy plains or trapped on track and often operated remotely, so we might not believe we'll see much action from these rigs. However, we don't have to wait long for some wicked chase scenes between dinosaurs and drivers of these 4x4s.
Driving Through The Walking Dead
For those who didn't follow this wildly popular futuristic romp airing on the AMC (old American Movie Classics — wait — what — huh — AMC — seriously?) channel, viewers might wonder how characters of this show transverses through a zombie-infested wasteland in a post-apocalyptic world. In a 1979 Jeep Cherokee SJ of course! It was showcased throughout the series successfully running (okay driving and riding) from 2010-2016.
---
Advertisement
Waiting (Forever) For Some Fast Love
There are very few automobile-based, vehicle-racing and red-hot car movies with explosive and exciting chase sequences that have experienced the same kind of success as the Fast and Furious franchise. With the off-roading success of Mad Max and its sequels fading fast in the rearview mirror, fans of the "Fast" series of flicks needed to wait until episode seven in the series to see some serious Jeep action. Without giving too much in the way of spoilers, you'll see a well-armored Jeep raging around after being dropped from the sky in Furious 7.
Mild and Wild in Breaking Bad
Another original series that went ballistic on AMC was the crime-drama-and-trauma Breaking Bad starring among others Dean Norris as DEA agent Hank Schrader. Let's face it, cruising in a Crown Vic is a thing of the distant past and today's cops driving around in SUV's are (and were) doing so in a weak attempt at blending into the background, so they can sneak around and issue citations. Instead, Agent Norris is a true bad-ass with a commanding presence patrolling in his 2006 Jeep Commander XK.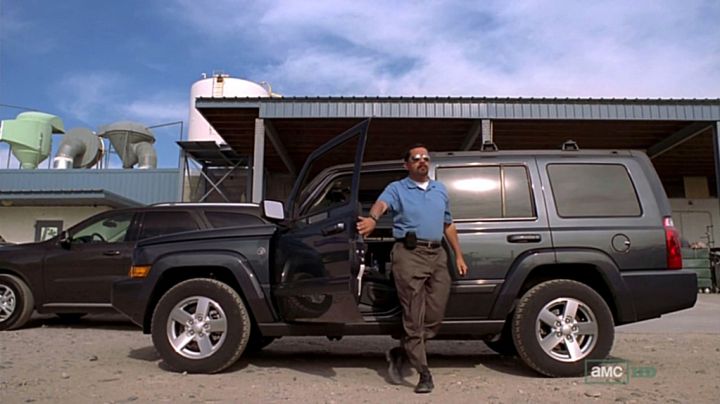 BAD-ASS JEEP BONUS: Another main character from this breakthrough show, the character of Skyler White (as portrayed by Anna White), also took to the streets in her 1991 Jeep Grand Wagoneer SJ, while it's more soccer-mom-esque, it's still way cooler from a retro standpoint. You go girl and rip it up even if it's mostly on city streets.
Rising From The Evil Dead
Long before flesh-eating zombies were really "a thing," the Evil Dead franchise of flicks began making them one when they brought back people from the dead to terrorize unsuspecting teenagers. Who are we kidding here? A bunch of kids hiking in the woods in a horror flick, what could possibly go wrong? What did go right was the mode of transportation in a 1987 Jeep Wrangler YJ and thank God they had a hardtop is all we have to say about the experience.
Getting Off-Road With The Goonies
A favorite among many fans of classic eighties movies, the adventures of the Goonies kept us on the edge of our seat starting with a wild chase scene at the beginning. During the opening credits, viewers will see a sweet little 1984 Jeep Cherokee XJ eluding police in a bullet-ridden chase sequence through a sleepy town on the Oregon coast. Don't forget the journey continued to unfold during a 4×4 race on the beach and fast-forward to the end of the flick when the cops come to the rescue on their ATVs on a sandy coastline.
Ancient Charlie's Angels Appearance
From a classic eighties' movie to a cheesy seventies TV cop series, what's hotter than three girls wearing skimpy clothes carrying guns and chasing the bad guys? Three girls wearing skimpy clothes carrying guns and chasing the bad guys while driving a Jeep CJ-5. While many fans of the show recall the female trio of private eyes driving Ford Mustangs and a Pinto, there was at least one episode when one of them was sporting a Jeep.
Active, and Attractive in The Dukes of Hazzard
While the defiant Bo and Luke boys from Hazzard County driving "The General Lee" (aka their 1969 Dodge Challenger painted to replicate an orange racecar) got most of the love during this series, fans of the show were still following the female lead in the show really closely. While Daisy Duke got a pair of namesake super-short-shorts named in her honor, sporting a 1979 Jeep CJ-7 in the "Golden Eagle" model ablaze with Dixie on the hood. This certainly didn't detract from the rising popularity of this stylish and patriotically-painted vehicle appearing in nearly 120 episodes.
Nickelodeon's Re-Boot During the Land of the Lost
In the reboot of the Land of the Lost series from the seventies, Nickelodeon brought the classic series back to life in the nineties and showcased a 1984 Jeep Cherokee XJ during the opening credits. As a true testament to the durability of these rigs, the 4×4 survives a trip through a time portal where the earth opens up and swallows the vehicle leaving the Jeep and its occupants nearly unscathed in the process. That was some seriously genius marketing right there.
For more cool recommendations and trail guides, lists and rosters like this one, and much more, be sure to follow us on Facebook, give us a Tweet on Twitter and get instant access on Instagram. Join the tribe of fellow other off-road enthusiasts here at JeepBeef where we live, eat, sleep and view everything that's 4×4 and more.