The Jeep's Wrangler Rubicon Xtreme Recon Package is here, and just in time to drive the Ford Bronco's manual transmission Sasquatch off road.
The Ford Bronco model still in production is causing a stir in the community, but if we know anything about the ongoing Ford Bronco Vs. Jeep comparisons, it's that Jeep is not only here to stay. It's here to only get better.
Directly targeted at the impending Ford Bronco Sasquatch, Jeep's Xtreme Recon Package is here to remind everyone that Jeep doesn't just deliver; it always one-ups itself.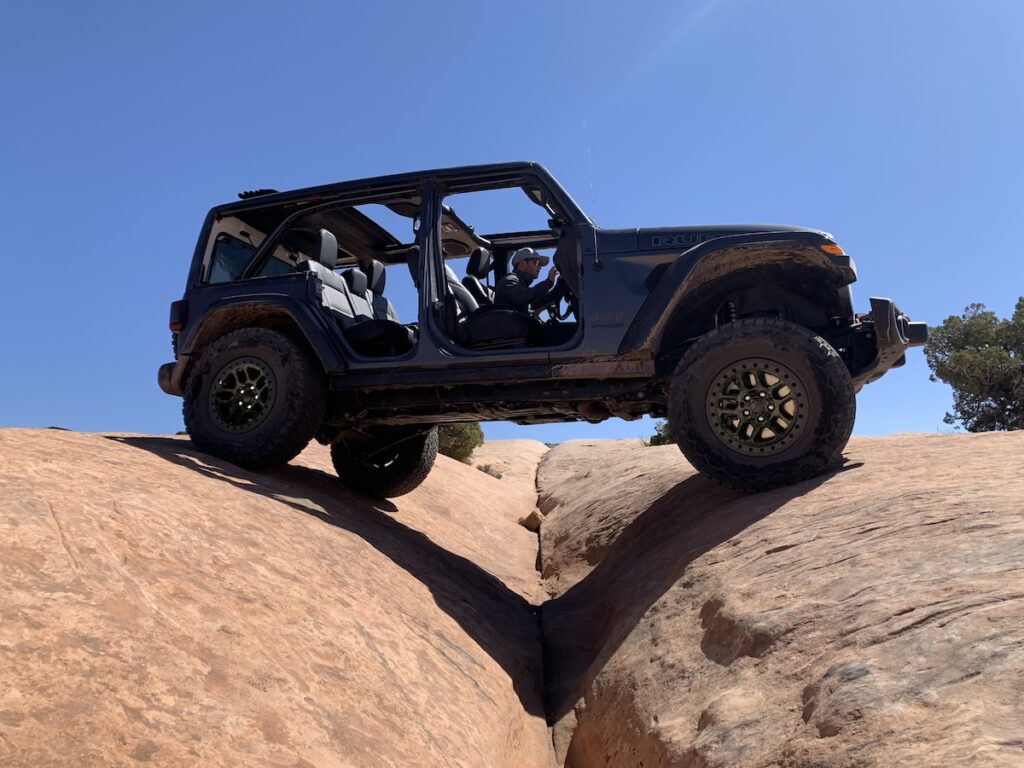 The Details
Who:
Jeep is once again outdoing itself by introducing a new package with advanced capabilities, reminding the world yet again that it is the 4×4 leader with unmatched capabilities.
What:
Just in time for its 80th anniversary, Jeep will be announcing the details of its new Jeep Wrangler Xtreme Recon Package, along with the 2022 Jeep Compass, on July 14th at the 2021 Chicago Auto Show. Now, we just wait.
When:
Customer orders are currently available for the Jeep Wrangler Xtreme Recon package, which can be used for both Wrangler Rubicon 4-door and Wrangler Rubicon 392 models. Industry-first 100:1 crawl ratio orders from the factory will be available to order online later this year.
The Sasquatch, on the other hand, has been pushed back and won't come until 2022. So much for Mythical Wrangler Killer.
Where:
Production at the Toledo Assembly Plant is slated to start in August 2021.
Why:
Vice President of Jeep Brand North America, Jim Morrison, shared "We have been listening to and watching our customers make this one of the most popular modifications to their Wranglers, and now we will deliver this exciting new package, along with an industry-first 100:1 crawl ratio, off the showroom floor at our Jeep dealerships."
The Features
The Xtreme Recon Package is slated to come with a combination of features that each comes with its own advantages.
LT315/70R17C (35-inch) BF Goodrich KO2 all-terrain tires
17-inch by 8-inch beadlock capable wheels
4.56:1 axle ratio / final-drive gears
1.5-inch factory suspension lift to the Wrangler Unlimited Rubicon
35-inch Tires: Re-Inventing the Wheel
They say to not reinvent the wheel but, in the case of the Xtreme Recon Package, the newly improved 35-inch tires come with improved ground clearance, water fording capabilities, departure angles, and approach angles. This also marks the first time ever that Jeep has delivered 35-inch tires directly from the factory.
These are the specific specs users can expect from these new and improved angles:
Approach: 47.4 degrees
Breakover: 26.7 degrees
Departure: 40.4 degrees
Ground Clearance: 2.9 inches
Water Fording: 33.6 inches
Not that it's a competition (but it kind of is), it's also worth seeing how this stacks up to the Sasquatch. Spoiler Alert: When it comes to clearance and angles, the Sasquatch is in the Xtreme Recon's dust, with the Xtreme Recon offering best in class capabilities.
Approach: 43.2 degrees
Breakover: 26.3 degrees
Departure: 37.0 degrees
Ground Clearance: 11.5 inches
Water Fording: 33.5 inches
4.88:1 Axle Ratio: Improved Crawl Ratio
One of the stand out selling features of the Xtreme Recon Package is its new 4.88:1 axle ratio which will be available to order later this year.
Pair the option ratio with the six-speed manual transmission, and you get the best 00:1 crawl ratio, ideal for wheel torque and offroading control. Just note that this feature will only be available for Wrangler Rubicons.
1.5-inch Lift: Do You Even Lift Bro?
Not only will this package offer a 1.5-inch factory suspension lift, but it will also come with uniquely tuned shocks
How Much?
Jeep will reveal the pricing for the Xtreme Recon package will likely be revealed during the Chicago auto show later this month.
Have Your Say
What are your thoughts? Would you consider purchasing the Recon over the Rubicon given the added benefits? Comment below.