When Ford announced they would be releasing the 2021 Ford Bronco a quarter-century after the model's original incarnation became defunct, we were hit with a massive wave of nostalgia.
After the nostalgia subsided, however, the questions about the mythical wrangler killer came flooding in. After all, the Ford Bronco is aggressively coming for the off-roading brand with its unique balance of nostalgia, modern features, and push towards off-roading culture.
But why now? What gave Ford the inspiration to resurrect this old classic and how well will it fare against our modern off-roading trucks? These questions became all the more prevalent when Jeep announced its 2020 Jeep Wrangler updates that could very well drive Ford's new model off the road (pun intended).
The reality is that both models maintain a unique place in American culture. Both are made in America; the 2021 Ford Bronco in Michigan and the 2020 Jeep Wrangler in Toledo, Ohio. Americans have emotional and nostalgic ties to both cars.
Many have noted how much the two cars have in common, and both have their work cut out for them. Without a doubt, there will be buyers for both models, but will the 2021 Ford Bronco be able to sway any Jeep loyalists?
Time will tell, but before then, let's consider how the two models compare against one another.
Jeep VS Bronco: A Comprehensive Analysis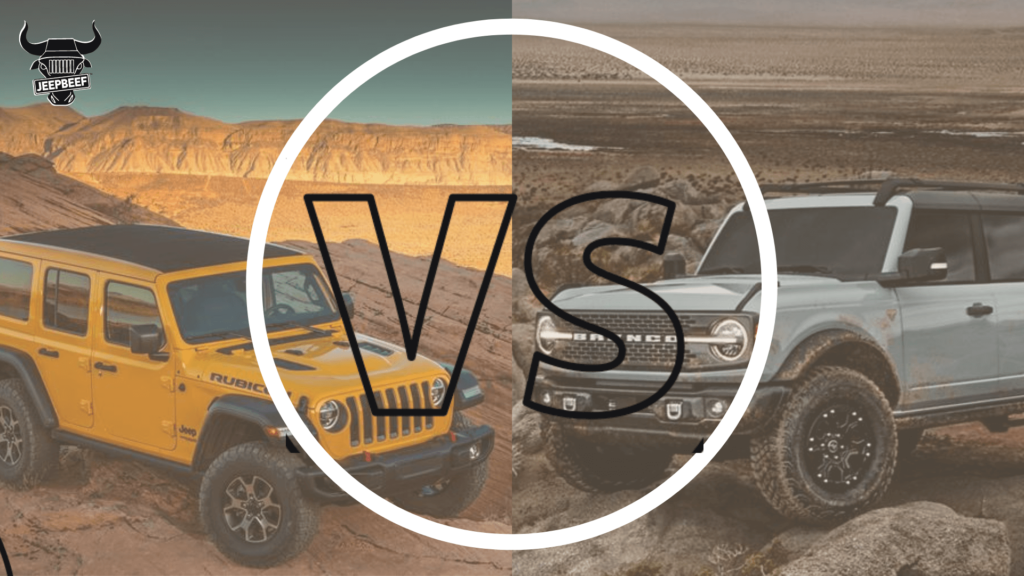 Design Elements
The Body:
2020 JEEP WRANGLER: The 2020 Jeep Wrangler maintains a classic design that's been maintained since Jeeps originated in World War II.
The model's stand-out design boasts the features that Jeep is best known for; its boxy shape, large windows, round headlights, an iconic seven-slot grill, and flat front fenders. The current Wrangler (JL/JLU) is available in both two-door and four-door models like its predecessors.
Spare tire included, the Wrangler spans 166.8 inches in length while the Wrangler Unlimited spans 188.4 inches long.
2021 FORD BRONCO: The design of the 2021 Ford Bronco is reminiscent of the vehicle's original model. Complete with round headlights, bold fender flares, and short front and rear overhangs, the model reminds us of what made the original model popular in the first place.
That said, the new model has something the original one didn't — a four-door option. The four-door Bronco is hefty and, at 189.5 inches, is roughly an inch longer than the Wrangler Unlimited. Its two-door model is 7 inches longer at 173.7 inches.
The Wheels:
2020 JEEP WRANGLER: While the standard Wrangler model boasts a 96.8-inch wheelbase, the Unlimited model takes things up a notch (quite literally) with a wheelbase measuring 18.4 inches.
2021 FORD BRONCO: The Bronco's two-door model has a wheelbase of 100.4 inches — that's 3.5 inches longer than the Wrangler. The four-door, however, has a wheelbase of 116.1 inches which is two inches shorter than the updated Jeep model.
The Tops:
2020 JEEP WRANGLER: Jeep enthusiasts will love that soft tops come as a standard feature of the updated Wrangler model, with an option for a hardtop. The financially savvy will particularly love that there are Jeep packages available that include both tops.
The Wrangler Unlimited, specifically, comes with Sky Touch Power Top. The roof is like a hardtop but isn't removable. It does, however, have a huge sunroof.
2021 FORD BRONCO: While the Bronco two-door model comes with a three-piece removable hardtop, the four-door models come with a soft top and an option for a four-piece hardtop. The four-door Bronco, however, comes with the option of getting a package deal with both roofs.
Starting Costs & Price Ranges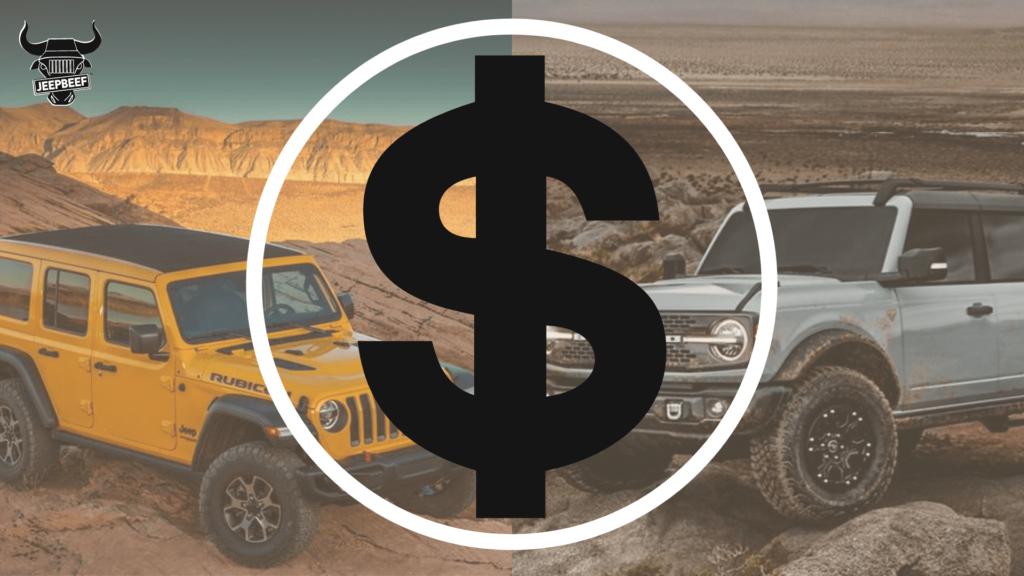 2020 Jeep Wrangler Costs & Packages
Two-Door: Base price of $28,295
Four-Door Unlimited: Base price of $31,800
Standard Features:
Six-speed manual transmission
V6
Add Ons:
Eight-speed automatic transmission: $2,500.
Turbo Four: $1,500
Sahara Altitude Edition: $42,000 (four-door)
Rubicon Recon Trim Level: $43,450 (two-door) / $46,950 (four door)
2021 Ford Bronco Costs & Packages
Two-Door: $28,295 (Base Model)
Four-Door Unlimited: $33,200 (Base Model)
Bronco First Edition Four-Door: $63,500 *SOLD OUT*
Bronco Outer Banks: $38,995 (two-door), $41,450 (four-door)
Standard Features:
LED headlights
Black door handles
Mirror caps
Fender flares
Fender tie-down hooks
Manual air-conditioning
Push-button start.
Add Ons: (NOTE: Pricing for packages have not been released)
Mild Package:
Ambient footwell lighting
Automatically dimming rearview mirror
Dual-zone temperature control
Heated front seats
Reverse Sensing System
Driver assistance features
High Package
Mid package hardware features (+)
12-inch center touchscreen
360-degree camera
Additional sound-deadening materials
Forward Sensing System
Wing mirror LED approach lights
Spotlight.
Lux:
High package features (+)
Adaptive cruise control
Bang & Olufsen 10-speaker sound system & subwoofer
Evasive Steering Assist
Heated steering wheel
Universal garage-door opener
Two extra front row charging ports
Voice-activated touchscreen navigation system
Wireless charging pad.
The Sasquatch Package:
17-inch black beadlock-capable wheels
35-inch mud-terrain tires
front & rear electronic locking differentials
higher ground clearance
upgraded shocks
larger fender flares
Beadlock wheels
The Features
Trim
2020 JEEP WRANGLER: In addition to the four basic wrangler trim levels (Sport, Sport S & Rubicon Core), the 2020 Jeep Wrangler is adding additional trim options.
2020 Wranglers Models (two & four-door):
Willys Sport
Black and Tan
Willys
Freedom
Rubicon Recon
The Wrangler Unlimited Models:
Sport Altitude
Sahara Altitude
North Edition
High Altitude (Nappa leather upholstery & 20-inch wheels)
2021 FORD BRONCO: Driving.ca gave us an in-depth look at the different trim level looks that the 20210 Ford Bronco will offer.
Base
Big Bend
Black Diamond
Outer Banks
Badlands
Wildtrak
Open Air Driving
2020 JEEP WRANGLER: One of the most attractive features of Jeeps is the ability to go topless (and door free). In standard Jeep fashion, both 2020 Jeep Wrangler and Wrangler Unlimited models come with removable tops and doors.
Jeep doors and tops can sometimes be hard to remove, but this model's hardtop comes with "freedom panels" that can be easily removed to let a little bit more air in when you don't have someone to help you take off the top completely.
When Wrangler drivers do decide to go topless, however, drivers will love how the windshield can fold into the hood and the storage area available to keep the Torx belts removed from the roof.
2021 FORD BRONCO: Whether you have a two-door model with a three-of-four-piece modular roof or a four-door model with a four-piece roof, the Ford Bronco's doors and tops are easier to remove than a Jeep's.
These doors are far easier to remove because they are frameless and can easily be stored onboard. You can even remove the vehicle's rear quarter windows without having to go topless!
Engines & Transmissions
2020 JEEP WRANGLER: Comes with a standard 3.6-liter Pentastar V6 engine that is paired with a six-speed manual transmission and produces 285 horsepower and 260 pound-feet of torque.
All models, including the Unlimited Sahara automatic, can upgrade to a 2.0-liter four-cylinder turbo that provides 270 horsepower and 295 pound-feet of torque. Various powertrains (including a plug-in hybrid powertrain) are available based on the tRIM level, as well as an eight-speed automatic transmission upgrade.
On the heels of Ford's announcement of the Bronco revival, Jeep hinted that there may be a 450-horsepower 6.4-liter HEMI V8 Wrangler coming up with 450 pound-feet of torque.
2021 FORD BRONCO: As of right now, Ford has two engines available for the Bronco; a 2.3-liter EcoBoost four-cylinder turbo with 70 horsepower and 310 pound-feet of torque, and a 2.7-liter EcoBoost turbocharged V6 with 310 horsepower and 400 pound-feet of torque.
These respectively come with a manual transmission with seven forward speeds or with a 10-speed automatic transmission. There may be more engine options to come from Ford, but we just have to wait and see.
Interior
2020 JEEP WRANGLER: The standard model comes with an array of interior features including:
Removable carpet
Waterproof flooring
Drain plugs
Grab bars
Weatherproof push-button start switch
Dual-zone automatic temperature control
Cloth upholstery
Crank windows
Manual door locks
Two-door 13 cubic feet of cargo room/ 32 cubic feet folded
Four-door 32 cubic feet of cargo room/ 72 cubic feet with it folded
You can also update to leather seats or to upper trim models with power windows and locks.
2020 FORD BRONCO: The standard 2021 Ford Bronco comes with:
Waterproof flooring
Drain plugs
Grab bars
Cloth or leather upholstery upgrades
Marine-grade vinyl seats
Push-button start
Power windows
Door Locks
Dual-zone automatic climate control (Mid-Level Package)
USB Ports
110-volt outlets
12-volt power connections
Two-door 23.6 cubic feet cargo space (52.3 folded).
The four-door 35.6 cubic feet cargo space (77.6 cubic feet folded)
Customization Abilities
JEEP 2020 WRANGLER: There are few vehicles as customizable as Jeeps. After all, Jeeps come with countless options to customize a vehicle to a driver's taste and have a wide variety of aftermarket products available. The 2020 Jeep Wrangler can be customized with Mopar parts that can be financed for regulated spending.

2021 FORD BRONCO: According to Ford, there will be over 200 accessories available for the 2021 Ford Broncos that dealers will be able to install upon request. These accessories have yet to be confirmed.
Technology Features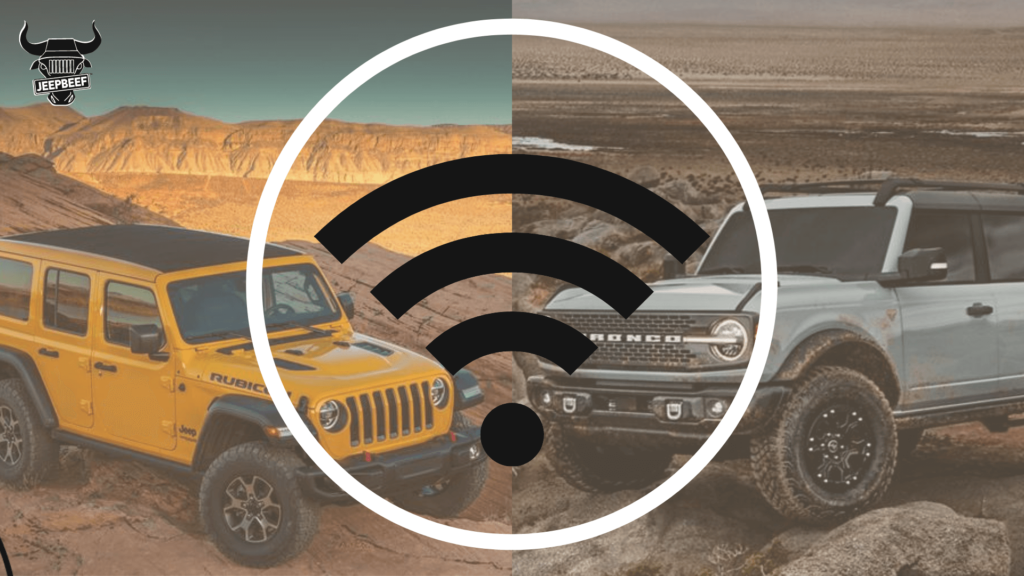 JEEP WRANGLER TECHNOLOGY FEATURES:
5-, 7-, & 8.4-inch UConnect touch-screen infotainment system cabin technology
Apple CarPlay & Android Auto for larger screens
USB-A and USB-C ports.
UConnect off-road pages (driveline setup, auxiliary gauges, pitch and roll angles)
7-inch multifunction instrument cluster display.
Blind-spot monitoring
Adaptive cruise control
Rear cross-traffic alert
Forward collision warning
Rearview camera
Front and front side airbags
2021 FORD BRONCO TECHNOLOGY FEATURES
Ford SYNC 4 infotainment system with an 8-inch touch screen (Standard Level)
12-inch horizontally oriented touch screen (High Level)
The FordPass Performance app (off-road navigation & trail maps)
Six pre-wired auxiliary switches
Front-, front side- & side-curtain airbags covering in first and second rows.
Rearview camera
Those who choose the Co-Pilot 360 Package will have access to advanced technology features including:
Automatic emergency braking
Lane-keeping assist
Rear cross-traffic alert
Automatic high-beam headlights
Evasive steering assist and adaptive cruise control (Lux Level)
Additional Add-On Feature: 360-degree camera system
The Off-Roading of it All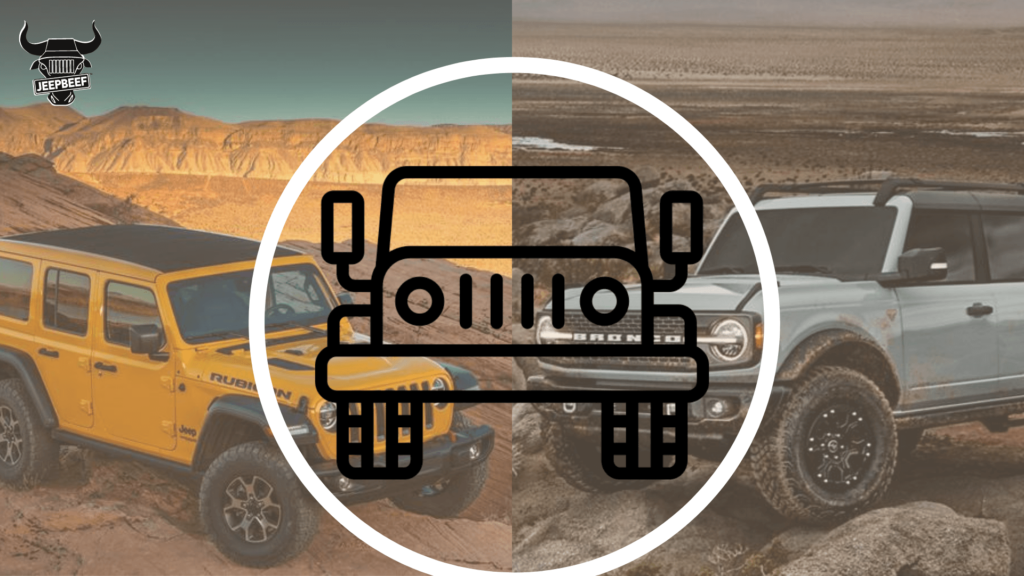 All Wheel Drive
2020 JEEP WRANGLER: There are three available four-wheel-drive systems that are available to Jeep Wranglers, all of which come with two-speed transfer cases. Every Jeep Wrangler comes standard with one of these three systems.
That said, the four-wheel-drive system needs to be engaged manually because the system is shift-on-the-fly part-time. The exception is the Sahara Wrangler Unlimited that boasts a four-wheel-auto mode for automatic four-wheel-drive.

2021 FORD BRONCO: Each 2021 Ford Bronco model comes with one of the two four-wheel-drive systems available. Drivers can choose between the base four-wheel-drive package that comes with a two-speed electronic transfer case with shift-on-the-fly capability or an advanced 4×4 system. The latter is an automatic on-demand four-wheel-drive mode complete with a two-speed electromechanical setup.
Suspension
2020 JEEP WRANGLER: The Wrangler's suspension allows for simple and durable driving thanks to its third-generation dana solid axles in its front and rear.
2021 FORD BRONCO: The suspension of the 2021 Ford Bronco is more complex than that of the Wrangler's but it provides an effortlessly smooth ride thanks to its independent front suspension. IFS, although more complicated, can provide a smoother ride, better front wheel movement, and overall better ground clearance.
Ford is sticking to their story that, because of its range of articulation, their stabilizer bar disconnect is superior to the Wrangler.
Off-Roading
2020 JEEP WRANGLER: Wrangler's Rubicon trim has become synonymous with off-roading thanks to its electronic front sway bar disconnect, electronic locking differentials for its front and rear, lower-range gearing, all-terrain tires, and protective rock rails.
At its Rubicon-level trim, the Wrangler can handle the most challenging off-roading conditions with the ability to drive at an approach angle ranging between 41.4 to 44 degrees, a ground clearance of 9.7 to 10.8 inches, and its impressive crawl ratio of 84.2:1.
2021 FORD BRONCO: Initial specs indicate that the 2021 Ford Bronco boasts ground clearance running between 8.4 and 11.6 inches dependent on the tires. Both two and four-door models are able to drive at an approach angle of 35.4.3 degrees, with departure angles being respectively 29.8 – 37.2 degrees and 29.7 to 37 degrees for two and four-door angles.
While Jeep off-roading relies a bit more on overall driving skills, the 2021 Ford Bronco's high-end technology gives everyone (newbies included) the opportunity to enjoy off-roading.
The model's different off-roading technology features includes:
Trail Control: The trail control feature acts as cruise control but at slow speeds for offroading. This control also allows drivers to control wheel power.
Trail Turn Assist: The Trail Turn Assist helps to improve off-road maneuvering by pushing more torque to the outside wheels.
Trail One-Pedal: The Trail On-Pedal allows drivers to brake and accelerate with the use of one pedal.
Mode Traction Management System: The Mode Traction Management System allows drivers to choose from various modes including:
Normal Mode
Eco Mode
Sport Mode
Slippery Mode
Sand modes
ADDITIONAL MODES: Mud/Ruts & Rock Crawl
Towing
The 2021 Bronco and Jeep Wrangler both boast the ability to tow up to 3,500 pounds and come with the option of trailer hitch and wiring harness packages.
The Experience
2020 JEEP WRANGLER: Being a Jeep driver gives you admittance to a community and culture. The sense of community Jeeps provide only begins with the special Jeep wave and is followed up by enthralling off-roading adventures and community events.
2021 FORD BRONCO: The 2021 Ford Bronco has a lot to catch up with when it comes to community and off-roading as the two have been synonymous with Jeep for decades. However, the manufacturer is taking major steps towards re-joining this culture with its off-roading courses which will be set up in four major American cities for all Bronco owners to join.
Additionally, Ford has established Bronco Nation to give owners the opportunity to connect online and discuss their experiences and related interests.
Staying Power
JEEP: Jeep's staying power is rooted in the fact that it's evolved from a World War II vehicle to a civilian car, to a symbol synonymous with off-roading and community.

BRONCO: All new things have a shelf life until they prove their staying power, but the Ford Bronco is really anything but new. The vehicle may have been off shelves for a while so to speak, but Ford is making moves with the reincarnation to reset roots and create a community that will continue for years to come.
The Verdict:
On paper, the 2021 Ford Bronco looks like it is a worthy opponent of the 2020 Jeep Wrangler, but we have yet to see this model in execution. The new Wrangler is not without its limitations, however, as fewer models are available due to COVID-19 related closures.
On paper, both have their own sets of limitations and advancements, but then again, some things that look good on paper don't translate as well when implemented.

The two vehicles are well-matched, and may the best truck win the hearts of off-roading and truck enthusiasts. All we have to say is that it's going to take a lot (and more) to win the loyalty of Jeep enthusiasts so the 2021 Ford Bronco has its work cut out for it.