To say that the year 2020 has been a wild ride is probably the biggest understatement of the 21st century. However, there's at least one thing worthy of celebrating and that's the 80th anniversary of the Jeep in 2021. From the historic trenches of WWII to the treacherous trails we're conquering currently, how will you be honoring this righteous ride given this awesome anniversary?
Before we get started, we should acknowledge the elephant in the room, aka COVID-19 and the resulting global pandemic. The spread of this mysterious and sometimes deadly disease has thrust us into "the new normal." We've seen it all from mandated mask-wearing to social distancing, and for sports fans, empty seats in stadiums across the country and around the world.
Exceptions to the Rule
Except for those weird cardboard cut-outs of fake fans that are all a little bizarre. But I digress. Given all the weirdness of 2020, how will off-roaders celebrate 80 years of Jeep greatness next year? What will we do in the shadows of a global pandemic? Well, I'm glad you asked. Here are some suggestions for rocking this anniversary without risking too much exposure to the virus.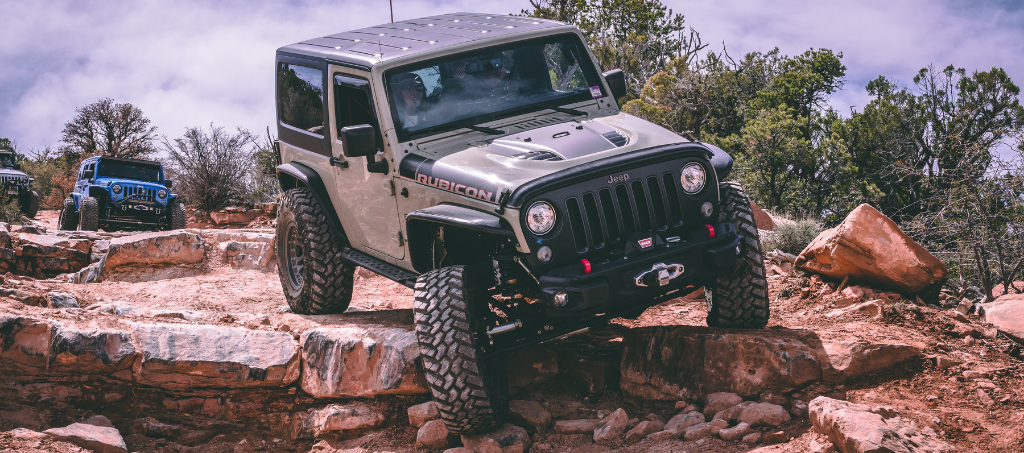 Taking On and Tackling the Trails
Social distancing isn't usually an issue out on the open road since this practice doesn't need to take place when driving in the great outdoors. This includes favored trails available to four-wheeling fans. However, thanks to the crappy coronavirus some of them are closed. So before you pack up to venture out, be sure to check with sources available online to see the status of these trails.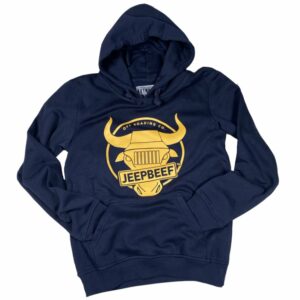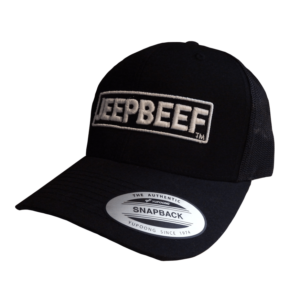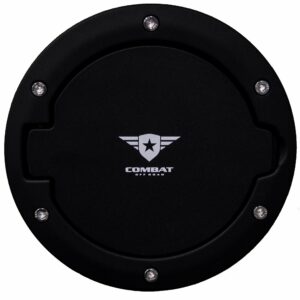 Buying Cool Stuff — Delivered to Your Door!
Many people sheltering in place are busting out their debit and credit cards and doing some serious online shopping. You've seen the memes on social media platforms with essential delivery drivers becoming quite the norm these days. Jeep fans are also able to shop and stock up on all their favorite gear, parts, accessories, and even some cool bling to keep in style at home.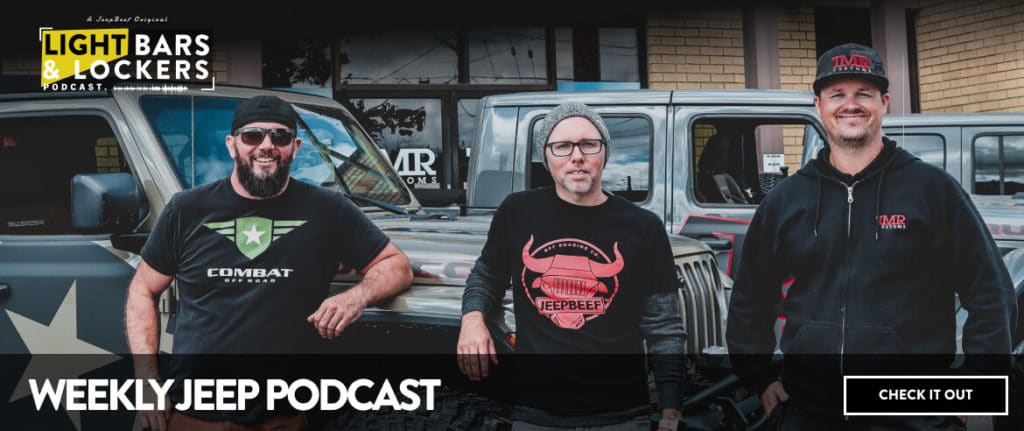 Watching Podcasts From Home
While many kiddos are distance learning, adults are also finding other ways to stay connected online and uncover new ideas, share like-minded concepts, and find 4×4 pals. This is where and when 4×4 podcasts come into play. We'd like to take this opportunity to share a shameless (but awesome) plug for the JeepBeef podcast that's available from a handheld device or other screen near you.
Appropriately titled, "Welcome to the Sh*t Show," this is the first episode of the Light Bars & Lockers Video podcast. It's not all about bars and locks and this show will encompass much more for Jeepsters and 4×4 fans to enjoy and explore. If you're stuck at home, go ahead and hang with the best-of-the-best off-road podcasters. This includes hosts:
Paul Cheser of Jeep Beef — committed to all things excellent about Jeeps and part of our beefy tribe since day one.
Tim Rogers from TMR Customs — co-founder of this company that started in 2007 with his brother Mark. What began as a hobby in their basement, TMR Customs grew into a state-of-the-art manufacturing plant that pumps out hundreds of parts, products, and accessories daily.
Ryan Stoangi of Combat Offroad — get gnarly with the provider of products that are mostly designed specifically for Jeep JK and Gladiator models.
There's a new episode every Thursday and to date, there are over a dozen of these podcasts available to view on its homepage. If you prefer, the pods are also being shown on YouTube. Viewers are encouraged to leave comments, questions, or anything else that comes to mind on the official Light Bars & Lockers Facebook page. Your post just might be featured on the next podcast.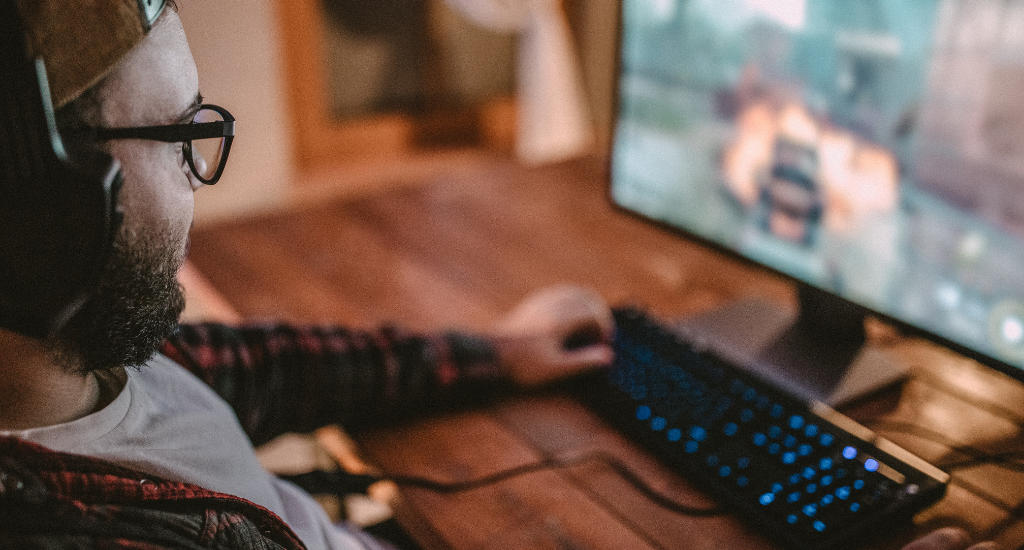 Play Video Games Much?
While the uber-popular video game Mario Kart is aimed mostly for amateurs, little kidlets and teens are cruising around in a virtual make-believe land full of mushrooms and weird rewards. However, off-roaders want a bit more from these adventures and fear not four-wheeling friends. Owners of gaming consoles, personal computers, handheld electronic devices, and more will enjoy some excellent onscreen adventures including these recommended from SRI Games:
Spintires
Spintires Mudrunners
Ultra Off-Road Simulator 2019
Pure Rock Crawling
Dakar 18
Dirt Rally
WRC 6 FIA World Rally Championship
Off-Road Racing
Nail'd
Gravel
Motorm4x Off-Road Extreme
Sega Rally Revo
While there are a total of fifteen different types of these games featured during the video, some are designed for motorcycles and ATVs. After you've conquered some virtual 4×4 trails, racetracks, and bogs, perhaps you'd like to take a crack at a two-wheeler or smaller all-terrain vehicle?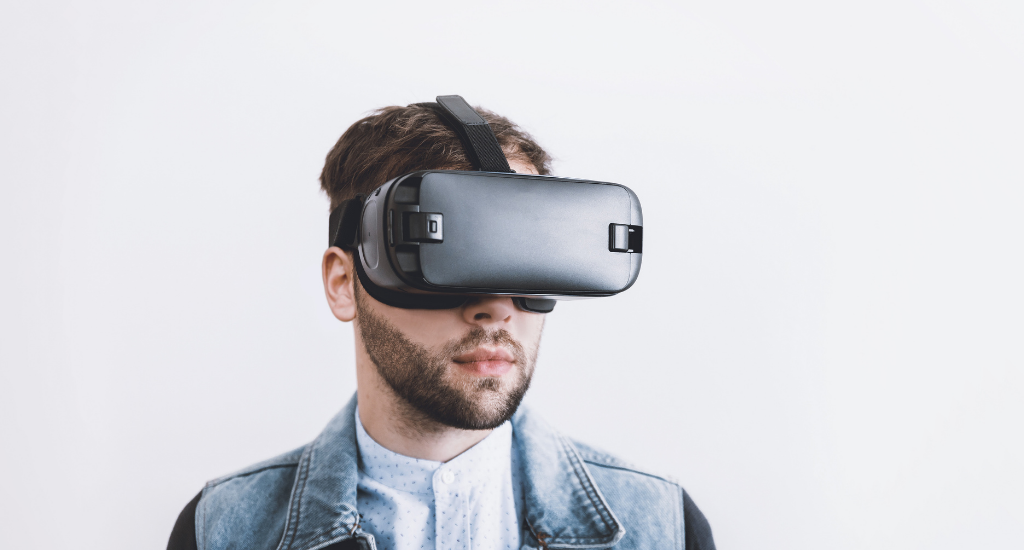 Taking a Virtual Drive
Whether you're rocking it old school with a vintage Jeep Classic Wrangler model from days gone by or embracing a newer sedan for your family-friendly ride, why not venture out in 2021? Not that you're looking to purchase an awesome new Jeep experience, but why not take a virtual trip down the future and check out a newer ride?
Thanks to today's technology and everything that the internet has to offer, why not take a look at what the new Jeep models have to offer? There's no need to wear pants or venture out to explore what the newer models have to offer. At the Best Chrysler Dodge Jeep Ram dealership, they're featuring a virtual ride in the newer 2020 Jeep Grand Cherokee along with dozens of other videos.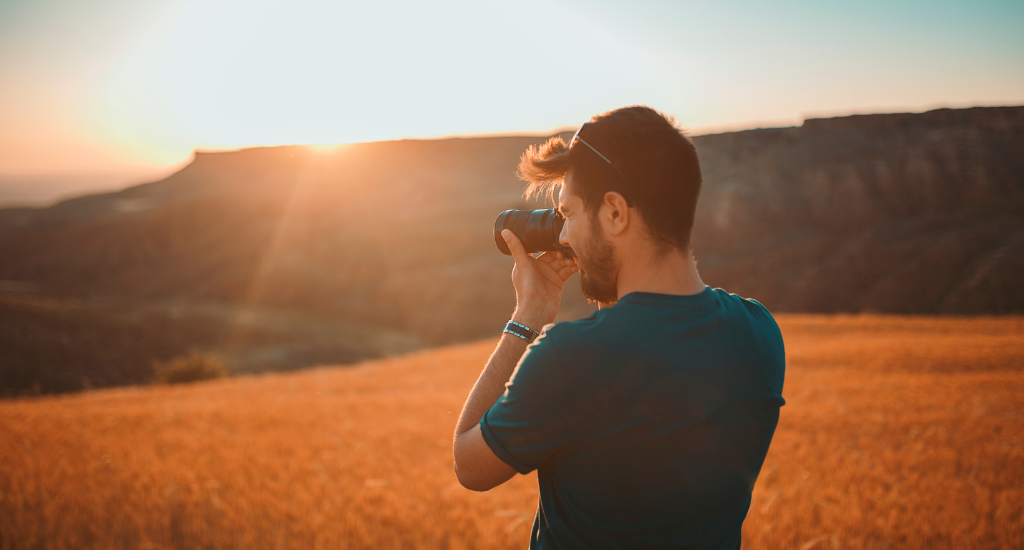 Making a Contribution
Are you a budding author with an interest in Jeeping and off-roading? Do you have a talent for snapping outdoor photography or have an eye for taking videos that embrace the 4×4 community? Want to show off your rad ride or share adventures from your latest trail ride? Have you conquered a particularly challenging rock crawl or blazed a new trail through a muddy, mind-bending bog? We want to hear from you! Submit your stories, photos, and videos using this platform.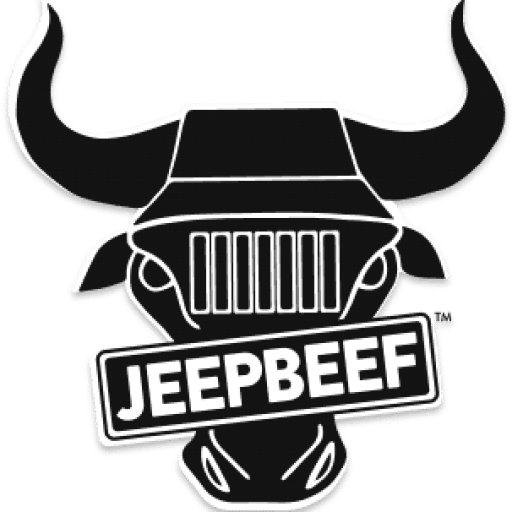 Signing up for More to Explore
For more excellent articles like this one, more gear to explore, hop on over to the JeepBeef Facebook page, get pinned on Pinterest, follow us on Twitter, or get instant access on Instagram. We've got everything that's rad for lovers of the off-roading experience.