Icon Off-Roading Co. Hoodie
Freezing weather be damned! Show off your love for Jeeps even in the cold with our Icon Off-Roading Co. Hoodie. Dare Mighty Things. Rep. The Best.
Details:
80% Ringspun combed cotton 20% Polyester
Pre-shrunk
Self-lined Hoodie
Brushed Fleece Interior and Exterior
100% Cotton Drawcords
Unisex Fit
Easy Care: Machine Wash, Toss in Dryer
CLASSIC JPBF LOGO HOODIE
There are a few certainties in life.  Paying taxes, crying while watching Saving Private Ryan, and wishing you had a comfortable hoodie. While we can't help you with the first two (we're starting to get teary-eyed just thinking about Captain Miller), we've got the third one covered with our Classic JEEPBEEF Logo Hoodie.
This hoodie is rugged, durable, comfortable, and looks great. It's everything a Jeep fanatic would want in a hoodie.
Picture this: riding around town, doors off, sunglasses on, hood up; the weather outside may be cold, but you'll be too warm to care.  
Gift a hoodie to a family member and win the holiday season. Buy one for your girl so she won't steal yours and you won't have to walk around smelling like Taylor Swift's new body spray. 
The hood of our JEEPBEEF Hoodie is designed to fit snugly around your head so it won't blow off every time there's a gust of wind. It's a great hoodie to wheel in, but you can also rock it in the club, at the pub, or when ordering a sub. 
Of course, the best part of this hoodie is the awesome JEEPBEEF logo. We're not trying to brag, but we're pretty clever when it comes to making things look cool. You'll be able to show off your love for the off-road community and JEEPBEEF at the same time! 
If you're looking for features, the JEEPBEEF Hoodie has features for days:
Seriously comfortable
Pre-shrunk for an accurate fit
Unisex design for both Jeepers & JeepHers
Plush 100% cotton draw-cords
Brushed fleece interior and exterior for added warmth and softness
Machine-washable and dryer-ready - Go ahead & get it muddy.
Access hole for earpods
What more could you want from a hoodie? If you snap a pic of yourself wearing this bad boy, we might even share it on our Instagram for the Jeep World to see. It's like a free dating service that doesn't have robots looking for sugar daddies. 
If you're seeking a hoodie that epitomizes the adventurous and pioneering spirit of the off-road lifestyle, this is the way to go. It's a hoodie that will last you as long as your Jeep will. Improve your life, follow these three tips: pay your taxes, stock up on tissues while watching Saving Private Ryan, and get the JEEPBEEF Hoodie.
Free Shipping > $150+
(Contiguous USA & Canada).
Excludes Jeep Parts.
Visit shipping & handling for more info.
Return or exchange any unworn, unwashed or defective merchandise by mail. Visit Returns & Exchanges to learn more about our policies.
100% Satisfaction Guarantee
We want you to feel confident in every purchase you make with us, which is why we are offering a 100% satisfaction guarantee.

If, for any reason, you are not satisfied with a product, contact our support within 30 days of receiving your purchase and we'll work with you to make it right!
Size and Fit Guide
Fit based on feedback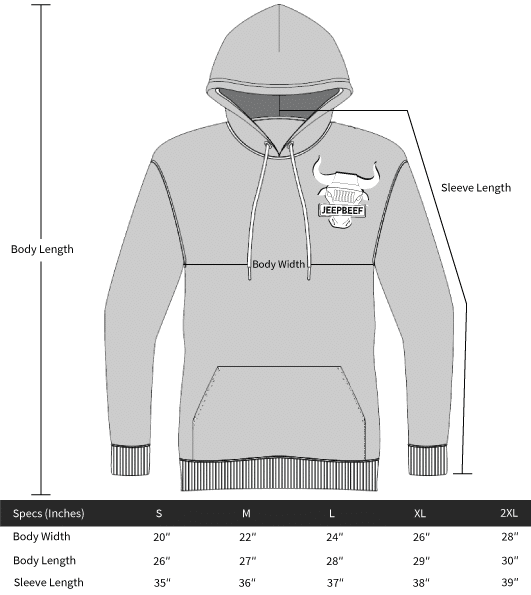 We rep only the best quality products and are fully confident in every product we sell. If you have a problem with any product purchased, tell us about it!
Jeep, Wrangler, Rubicon, Renegade, CJ, and the Jeep grille design are registered trademarks of FCA (Fiat Chrysler Automobiles). Neither JeepBeef, nor JeepHER has any affiliation with FCA. Throughout this website, the terms Jeep, Wrangler, & Rubicon are used for identification purposes only.

© JeepBeef Media Corp.
Built (not bought) by MediaTown
Almost done
Please confirm your email address