The shortest answer to these questions is yes, on both counts. For most people who follow current trends in the automobile industry (or the world), one thing comes to mind; Gas-guzzling, high-performance vehicles, and muscle cars are slated to become a thing of the past. Global leaders worldwide are banding together to ensure we all significantly reduce greenhouse gas emissions over the next few decades. However, this shift has many of us Jeepers, fans of higher-performance vehicles, and off-road enthusiasts all scratching our heads, wondering WTF?
Here on the Home Front
Varying dates for compliance, different regulations, upcoming legislation, and more will vary from place to place. Mostly, here at home "it" is being called the Build Back Better Agenda with advances in smarter fuel efficiency and reduced emission standards. In a statement recently released by The White House, today's seated President Joe Biden's plan is part of a Bipartisan Infrastructure Deal that (allegedly) promises to:
Offer incentives for compliance in order to encourage participation
Invest in the infrastructure and manufacturing processes
Grow better-paying, union jobs here at home
Become the leader in producing electric vehicles around the world
Ultimately saving American consumers some serious cash
Putting politics and promises aside, like it or not, we must embrace the fact that electric and hybrid vehicles are the future. But how will the Jeep brand continue to rock in a greener world, stay strong, true to its roots, and still dominate the trails?
A Diligent Dedication to Excellence
Before we look towards the future, let's take a moment to remember the past. As we die-hards know, the Jeep brand was born to serve on the battlefields to face the many challenges of WWII. Engineers at the time were careful to examine everything this warrior needed for both drivers and the vehicle to tackle the most challenging terrain.
The history of the beginning of the Jeep is chock-full of fun facts and trivia, but more importantly, were the ways designers and manufacturers paid careful attention to detail when it came to production. They ensured that this all-terrain vehicle was lightweight yet durable, packed with performance and the ability to be combat-ready at a moment's notice. Highlights during its infancy included:
Initially, these Willy warriors had no doors, were devoid of a windshield, and only sported a cloth roof… talk about badass!
These Jeeps were often used to transport wounded soldiers to medical attention saving countless lives
Wartime Jeeps only had a three-speed transmission including one available for traveling in reverse
A four-cylinder engine produced a remarkable (at the time) 60-horsepower ride with 4,000 RPM that would reach speeds of up to 45 MPH
Spare tires were located in the rear and allowed for extra space within the vehicle itself so that up to 1,000 pounds of cargo could be added
A mountable gas tank on the side of the ride provided for extra miles with no gas stations available on the front lines
With this type of foresight being put into place during the inception of the vehicle itself, we should be looking forward to great green rides coming from this epic brand.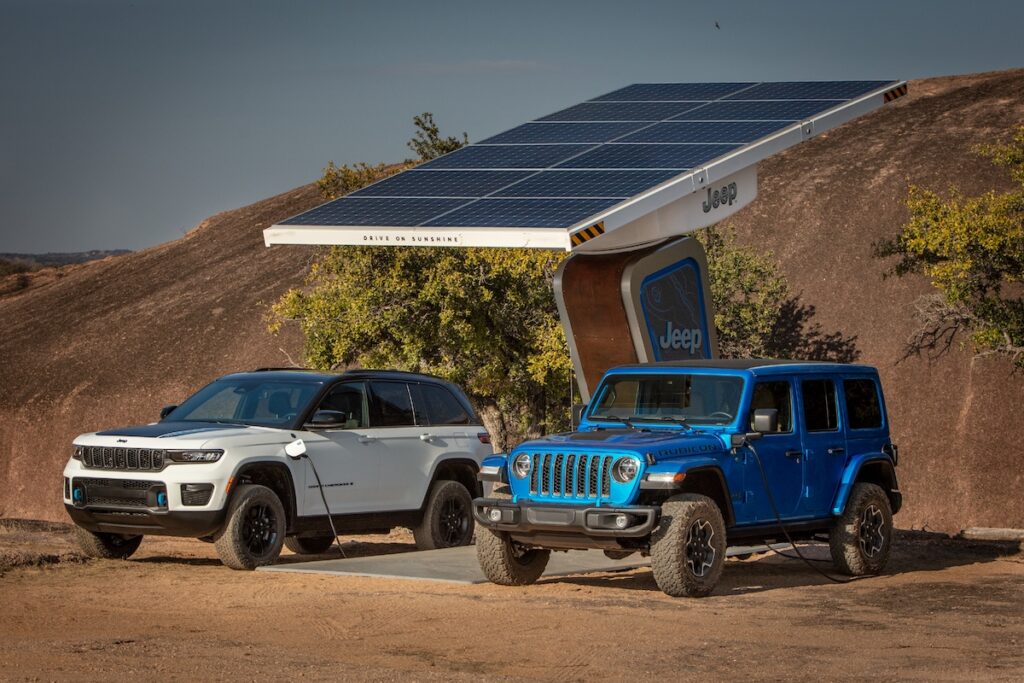 Increased Torque With Today's Modern Technology
Even for the most seasoned car enthusiasts, the concept of "torque" can be difficult to digest along with physics in general. Basically speaking, it's a twisting force that leads to rotation. Forgive me, I always sucked at math along with physics in general, so I'm easily confused. Electric vehicles seem to be slower or sluggish compared to their fuel-driven counterparts. With this lack of pure power, what happens to the torque that we experienced with more power? However, along with today's modern technology, the times they are a' changing and continue to evolve.
From those in the know when it comes to dealing with Jeeps, without getting into all the math and physics, apparently using electricity rather than fossil fuels is the way to go. Check out what a reputable dealership had to say about the transition:
"The choice to move into the hybrid market may surprise some, but for Jeep, the choice was obvious. While hybridization is well-known for creating greater fuel economy figures, the technology can also be a huge asset for torque distribution. This element is crucial for four-wheel drive vehicles, so the Wrangler is a natural fit for this eco-friendly technology."
Again, along with admitting I'm not that good at math or physics for that matter, but more torque and better turning capabilities are a win-win combination when it comes to four-wheeling. I'm just sayin'. At this point, it's probably safe to say that making the move from gas to electricity as a power source for Jeeps and other off-road vehicles may have some advantages we've overlooked.
Accessories Will Continue to Rock Through the Ages
Similar to classic automobiles, former, beloved muscle cars, ATVs, trucks, other popular off-road performers from the past, parts are still available. It appears we'll always be able to find and buy awesome accessories and branded swag to add to these radical rides regardless of legalities. This type of add-on gear almost never interferes with overall performance, but rather enhances the ride instead. Also, it doesn't hurt to shop and rock some hot gear, wear some bling, while showing your allegiance to being a true Jeeper inside and out.
Models in the Works
So what's up when it comes to shopping, what's in store when it comes to the newer models coming to a Jeep dealership near you? As mentioned previously, arguably the Wrangler is among the most popular Jeep models of all time. However, look for both more luxury and better performance coming from other popular Jeep SUVs like the Grand Cherokee and Trackhawk.
Finally, to keep your fingers tight on the pulse of everything that's happening in the Jeep world, be sure to stay tuned to our Lockers and Light Bar podcast. You'll easily find us on Facebook, and we're always looking forward to the future of the sickest ride of all time. And always remember, as true Jeepers, we respect the great outdoors and want to do our best to protect the environment. CHEERS!