[Updated 2021]
Off-roading is a fundamental part of rocking the Jeep life. Your first-time wheeling is guaranteed to be an adrenaline-pumping, memorable experience — but there are also some common sense tips to consider. To make sure every off-roading adventure is as successful and exciting as it can be, it's important to bring along a few essential items. 
One of the best parts of wheeling is that you never quite know what to expect, which is why it's also important to prepare for any setbacks or extraordinary circumstances. Even if you may not need a particular item for yourself or your Jeep, a member of your group or even another group on the trail may be in need. By being prepared, you can make a huge difference in everyone's experience.
There are a number of different categories of items that you will need when heading out for a day on the trails. I've found it easiest to make a list and pack up everything the night before so that you are fully prepared and ready to head out the next morning for a day (or weekend) of adventure.
1: First Aid Kit
For me, there are few things more exciting than being the first to wheel a trail, to see what obstacles I can conquer and the adventures that are just ahead, but it's important to be safe (rather than sorry).
You will want a comprehensive first aid kit on board at least one of the Jeeps/trucks or ATVs that are out on the trail with you. That said, it's a good idea to have some additional first aid supplies on you just in case. After all, anything can happen when you bring motorized vehicles, rough terrain, and some ego's into the mix. It is very easy to take a simple fall, get a cut, or twist an ankle.
When you are "Off-Road," emergency services could take an extended period of time to reach you — and that's even if you have a CB or cell phone service.
While you can buy prepackaged first aid kits, you can also make your own with some key items.
What to Put in Your Off-Road First Aid Kit:
– Safety Glasses & Gloves
– Fire Extinguisher
– Tarp
– Flashlights
– Matches or a Lighter
– Toilet Paper
– Hand Sanitizer

– Water Purification Tablets
– Maps
– Garbage Bags
– Tool Kit
– Snap Ring Pliers
– Air Pressure Gauge
– Portable Air Pump
– Jumper Cables
Author Story Time:
I learned the importance of a first aid kit the hard way when, about 10 years ago, I was wheeling with a group of friends and happened to fall and split my leg wide open along the shin bone. I could not close the wound without some simple and clean supplies and I did not bring a first aid kit. Lucky for me, a friend of mine was smart enough to bring a kit and we were able to bandage me up and make the 6hr trek out of the trail and to the local hospital.
2: Food, Water & Snacks
Regardless of your off-road destination, don't forget to pack food, water, and snacks. We all go out with the intention of "let's just go out for a few hours," " we will be back for dinner," or the famous "let's just stay out for another half hour" — but we always end up out longer than anticipated.
You will almost always end up out longer than anticipated, so make sure you are prepared with food, snacks, and water. Plus, if you are unable to get back, or someone has dietary needs, it's important to have these supplies stocked up.
Always bring lots of drinking water — water doesn't go bad, so you can always stock up and save some for later. Water can be used for cleaning wounds, drinking, boiling for sterilization, and cooking. Double up on the water inventory too – you never know how much you'll need for you or your group and who you may come across that needs some help too.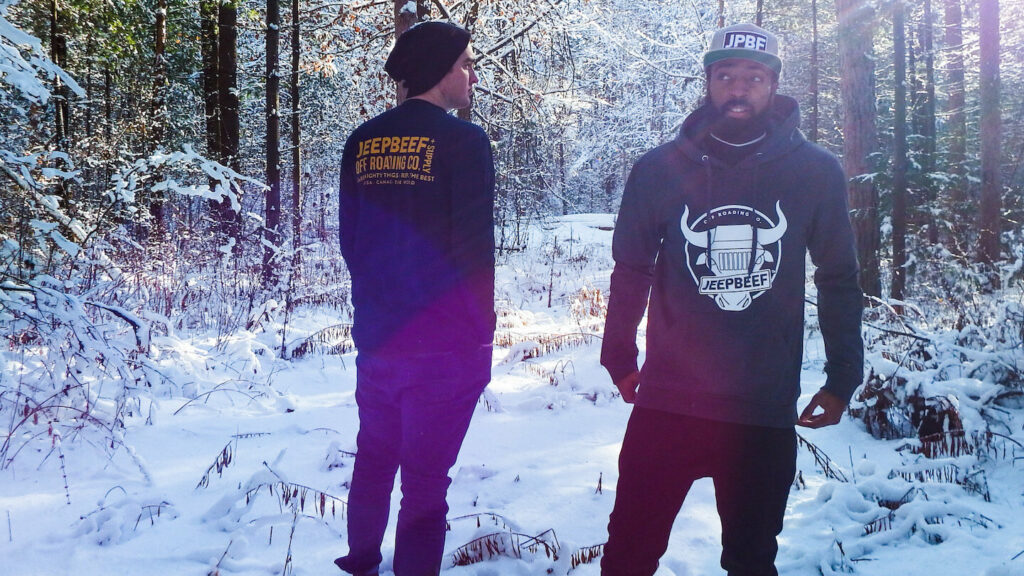 3. Warm Clothes, Change of Clothes & Blankets
Pack a gym bag with socks, t-shirts, hoodies, pants, and an extra pair of footwear. When you are out in the woods with all kinds of terrain, you never know how the weather conditions can change. Sometimes a storm will roll in and, if you didn't plan on being out after dark, it's nice to be able to add some layers when the sun goes down and the night cools off.
It's always a good idea to pack blankets or sleeping bags and a pillow, just in case you have to stay out overnight due to a mechanical failure. Who knows, you may just feel like living in the moment and sleeping under the stars.
4: Tire Deflator
Maintaining tire pressure is essential when of-roading. Tire deflators let you easily reduce your tire pressure to enhance traction, grip, and your jeep's ability to adapt to different terrains.
Luckily (shameless plug) Combat has a tool to get the job done. Check out (and pick up) our Combat Off-Road Rapid Air Tire Deflator on the JeepBeef store.

5: Recovery Gear
Another must-have tool when wheeling is a recovery gear kit. I keep my kit together in one bag so that I can remove it from my Rig when it's not needed. This way, I always know where my wheeling tools are without hesitation.
There are many kits available from notable brands like Warn and ARB. If you are looking for a more cost-effective option, Rugged Ridge products are also a great choice.
If you have more specific needs and want to great a recovery gear kit of your own, make sure to have a rugged carrying bag that can withstand the weight of the gear and will last when it's thrown around on the trail.
Your recovery gear kit:
Your recovery gear kit can include:
1 tree saver
1 long strap
1 pair heavy duty work gloves
2 D-ring shackles
1 utility knife
1 snatch block
These are the basics that everyone should have. If you're mechanically inclined or are more advanced, you will likely have a tool kit and maybe even some spare parts aboard your rig just in case you need to do a "trail fix". (Having some tools on hand will also make it easier for you to disconnect your sway bars – if you don't have a Rubicon. Not sure why you want to disconnect your sway bars? Keep an eye out for that article!) It's also a good idea to have a tool kit should you want to disconnect your sway bars and don't drive a Rubicon, or have sway bar disconnects – and trust me, you want to disconnect your sway bars.
6: Communication: CB, Cell Phone & GPS Ability
A CB is a great tool with an awesome range. If you are going off-roading in small groups and to more remote and less active locations, then a CB is a must – plus they're a blast to use. You will want to know all the emergency channels and how to operate your CB so you can gauge your location and be able to communicate it in case of an emergency.
Most cell-phones are equipped with some sort of GPS functionality. However, coverage areas can be limited and cell phone location data is sometimes vague. When you're off-roading in remote locations, there is no replacement for a dedicated GPS unit. If you are faced with a life-threatening emergency, then accuracy and time are key — and your phone GPS may not boast this accuracy.
Although a cell phone is a great tool to bring along, the downfall can be the battery and signal. Make sure to have an extra cell phone charger in your rig and possibly an external power source just in case.
7: Spare Tire
This may seem obvious, but just in case, I'm here to remind you to ALWAYS pack a spare tire. The last thing you want is to be left with a flat tire and nowhere to go, or even worse, no tire. The thing is, with off-roading terrain, you never know how much damage your tire may endure. Always have a spare tire in case you, or someone in your group, need to do a quick switch.
8: Extras & Miscellaneous
There are a lot of extras and miscellaneous items that can be helpful when hitting the trials. Of course, some of these items are better suited to certain terrains and circumstances than others, but you can always pick and choose what you bring:
– Safety Glasses & Gloves
– Fire Extinguisher
– Tarp
– Flashlights
– Matches/Lighter
– Toilet Paper
– Hand Sanitizer
– Maps
– Water Purification Tablets
– Garbage Bags
– Tool Kit
– Snap Ring
– Pliers
– Air Pressure Gauge
– Portable Air Pump
– Jumper Cables
The best part of off-roading is not knowing where your adventure may take you, which is why it's important to plan for all types of circumstances and situations. Some of these situations may be emergencies, while others may just be spontaneous decisions like an overnight camping trip that you can facilitate thanks to your tarp, sleeping bag, and snack stash.
Regardless of where your adventure takes you, to ensure a safe, enthralling off-roading trip, be sure to prepare ahead of time and pack smartly. Your fellow wheelers will thank you.