Ep. 216. HD Spare Tire Carrier Throw Down
Paul Chesher
JeepBeef Co.
Ryan Stoangi
Combat Off Road
What's up y'all. Tonight we're throwing it down! Battle of the HD Spare Tire Carriers with our Special Guest Dave from CavFab. Join us as we finally answer the question – Which Spare Tire Carrier can handle a 40 inch tall tire.

Of course we want to hear your thoughts and opinions. Do you have a preference? Also, if you have questions for Dave, Ryan, or Paul, post 'em up!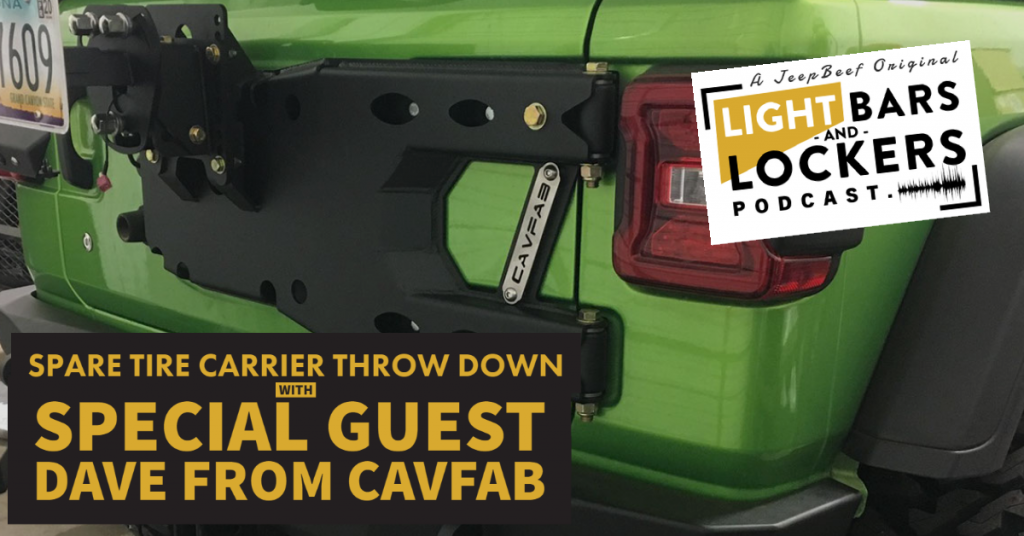 Check out CavFab at: https://cavfab.com/ and enter the promo code jeepbeef and enjoy 10% off your purchase!
Interested in learning about Mission 22? Check out their website here.
Want to donate to the case? Here's a link for that too.
Interest in that Mix 'Em Up Box we mentioned that also helps out Mission 22? We got that here.
Jeep Related Question?
Email us at [email protected]
Join our text community (yes, it's really them).
Text "Podcast" to 1-716-209-3576.
(Once joined, feel free to text with questions anytime).
Thanks for stopping by. Please leave a comment, join the Facebook Group, or Text Us with show ideas! We will try and answer any/all questions in an upcoming episode!
Episode Sponsors